From the sewers of New York City, Leonardo, Michelangelo, Donatello and Raphael have BURST into our office in Sydney to offer their services at your next kid's party!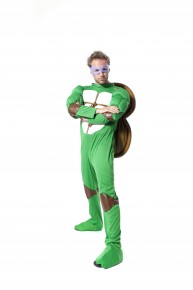 The third animated series of TMNT has just kicked off, and now the turtles are celebrating in Sydney… with StarDust! So pick a turtle, any turtle! We can come as your kid's favourite – whether it's Leo (blue), Mike (orange), Don (purple) or Raph (red).
This may surprise you, but the Ninja Turtles have lots of games and tricks to pull out of their shell… magic, balloon models, parachute games, bubbles and more! They bring the music for the groovy dancing games (no surprise they don't require electricity – everything they need is in that shell!) and they may even have fake tattoos and face paints!
To book a party with a StarDust Turtle, give us a buzz on 9211 9254.