Expecto Patronum!!!
A truly magical experience for all the kids. The Kids will love learning how to be real witches and wizards just like Harry Potter and all his friends.
Our wonderful Hogwarts Wizard or Witch will take the kids on an awesome adventure where they will get to practice sneaking up on Death Eaters and scaring them away and have their Harry Potter Knowledge tested in our Sorting Quiz, where they will be placed into a Hogwarts House. As well as this, our Spells Class will have the kids learning all the spells they will need to know in order to defeat Lord Voldemort. The kids will love our Duelling games, be mesmerised by our interactive magic show, be mystified by Ron's radical riddles plus much more.
Activities Include –
Harry's Hogwarts Games

Sorting Quiz

Spells Class

Mesmerising Magic

Duelling Games

Ron's Radical Riddles

Yule Ball Dancing Games

Muggle Making Balloon Modelling

Fab Hogwarts House Tattoos
Plus Much More Including Free Invites
The Kids are sure to have a spell binding time at a StarDust Kids Harry Potter Party.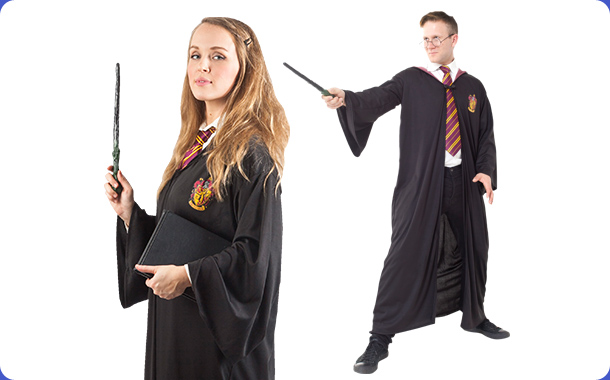 Just Some Of Our Spellbinding Harry Potter Feedback –
Eloise's party was a huge success. Harry Potter was a hit – the kids are still raving about it. The Entertainer did an exceptional job of engaging the 28 or so kids at the party – none of us parents could believe it! For one whole hour the children were entertained and LISTENED to him! He encouraged participation, made them feel comfortable, stayed in character, and played a range of age-appropriate games.

Eloise felt very special and invited Harry Potter to come back to her party next year. I couldn't recommend StarDust enough – we've hired two entertainers from your company over the years, and I'd use you again.

Daniela V
Thank you Stardust for coming out on Saturday. My daughter and her friends had a fun and wonderful time with Hermione. I will, and have already started suggesting you to some of the mum's at my daughter school. Thank you again.

Ann B
What an amazing service and awesome entertainer. From the moment Harry Potter arrived at the park, to the big finale and goodbyes, he had our large group of kids totally enthralled. It was a clever magical performance that kept the kids wonderfully entertained. The birthday girl was over the moon and all the other parents had a great time, including me! I'd seen your entertainer at a party before where he worked his magic as Andy the Dinosaur man, and was so glad he was available for our little girls party. Thank you.

Jessica W