It's Time To Get Social, From A Distance
StarDust Kids are committed to delivering fun, exciting and safe kids parties! Whilst we understand it may not be possible to eliminate 100% of the risk Covid-19 poses, there are steps we can all take to help dramatically reduce the risks.
Because of this, all of the StarDust Kids Team are double vaccinated and we have introduced our amazing Covid-Safe Party Package to work hand in hand with our Covid-19 Safe Policy. Helping to keep you, your guests and our entertainers safe.
Filled with action packed activities and great games, our Covid-Safe Kids Party is a huge hit with the kids! The character of your choice will take the kids on an awesome adventure where they will "train" to be just like their favourite heroes. Playing plenty of games, helping perform some marvellous magic, showing of their coolest dance moves and much more, the kids will have a MAGICAL TIME! And all whilst the entertainer is practicing and encouraging social distancing.
Activities Include –
Wacky Welcome Show
Heaps of Fun & Funky Games
Interactive Marvellous Magic Show
Barmy Balloon Modelling Show
Balloon For The Birthday Child
Bubble Mania
Cool Disco Dancing Games
Hip Hoorays & Happy Birthday Days (Birthday Song & Cheers)
As always we know that a personalised approach creates the most magical moments. With 300+ characters to choose from, we work with you to deliver a bespoke party that ensures the birthday child and their friends have the best time. Whether it's swapping out games. Adjust activities. Or simply adding those personal touches. StarDust Kids are here to help!

Creating A Covid-Safe Kids Party –
By working together we believe we can all help to reduce the risk of covid-19 at your next kids party. Outlined below are some of the procedures we have implemented and steps we have taken to help reduce the risks and create safe environment for everyone.
Steps We Are Taking –
The strict following of government guidelines
The creation of our Covid-19 Safe Policy
Observing social distancing
Additional training for our entertainers on how to deliver a Covid-Safe Party
Sanitising of equipment after each party
Dry-cleaning of costumes
The introduction of cashless payment
Why Choose StarDust Kids –
With over 22,000 parties and events under our belt, StarDust Kids are one of Australia's most trusted and sought after kids entertainment companies. Our passion and commitment to ensuring that kids have a great time, whilst making planning your next party stress free, is why thousands of parents choose StarDust Kids every year.
We know that these are scary times, but planning your next kids party needn't be. With over 15 years of experience in delivering the best kids parties around, we are here to help. When you contact StarDust Kids you can rest easy knowing you are getting quality, experience and a team that cares.
What Makes Us Unique –
We take a personalised approach to your next kids party
We work with a small, hand picked team of professional actors, singers and dancers
Every entertainer goes through a rigorous training process
On-going training and professional development is regularly given
We know each of our entertainer – they are not just staff, they are family
All our staff have current NSW working with children's checks
We are proud partners and supporters of The Starlight Childrens Foundation & The Ronald McDonald House Charities
We hold $20m of public liability insurance
All our staff are covered by workers compensation insurance
We deliver personalised packages
We care about your experience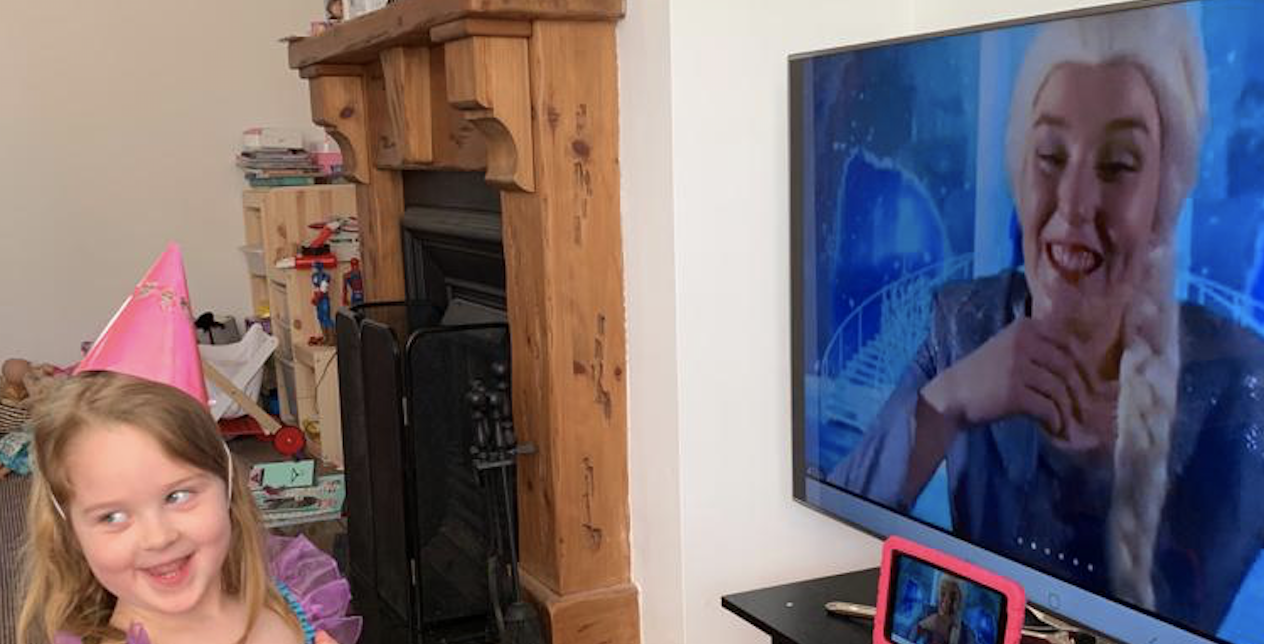 Sill In Lockdown –
Perhaps you are still in lockdown. Maybe your not yet comfortable hosting an on-site party just yet. Never fear, our Zoom Virtual Kids Parties are a great alternative.
Our zoom virtual parties are proving a hit the world over. We've been partying in LA, dancing in Barbados, scavenger hunting in Scotland and delivering smiles in lots of other countries across the world.
For more information on our Zoom Virtual Kids Parties, click here.