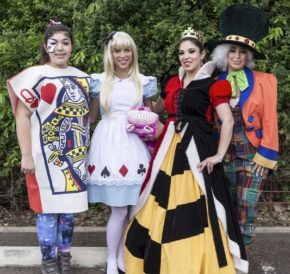 Whether or not you know the story of Alice's Adventures in Wonderland well, you're sure to be familiar with the characters. Children love them! We're talking about the grinning Cheshire Cat, the Mad Hatter, the bad-tempered Queen of Hearts, and of course, lovely Alice herself in her blue and white pinafore dress.
Children have been enjoying Lewis Carroll's Alice's adventures in Wonderland for more than 150 years, and a birthday party centred around the theme and characters of the story is certain to be a huge success. Here's how to host your very own Alice in Wonderland themed party.
Host a Mad Hatter's Tea Party
Naturally, it has to be a Mad Hatter's Tea Party for your Alice in Wonderland party! You can incorporate this theme into your invites and your party decorations with nonsensical signs pointing every which way, teapots and teacups, and a giant top hat.
Decorate your party venue in the colours that are synonymous with Alice in Wonderland. You will want balloons, bunting, tablecloths, plates, cups, and serviettes in bright, primary colours. Choose red, white, and pale blue, or a darker blue if you can. Or, you can buy Alice in Wonderland merchandise, including plates and cups. Instead of party hats, make rabbit ears using headbands and cardboard.
For your food, decorate your plates of sandwiches and sausage rolls with 'Eat Me' cards. Make some strawberry jam sandwiches with white bread, but before you put the top slice of bread on your sandwich, cut little red hearts into it. The red jam will show through. Cut your sandwiches into little triangles and display them on a plate.
Top cookies and cupcakes with white icing and red hearts, and have plates of jam tarts and bowls of red jelly and vanilla ice cream for dessert.
Party Games for Your Alice in Wonderland Themed Birthday Party
It's easy to come up with some fun games and activities to keep your guests entertained. Consider the following:
Instead of Pin the Tail on the Donkey, set up a game of Pin The Grin on the Cheshire Cat, or Pin the Tail on the White Rabbit.

Choose a Pass the Parcel Prize to match your Alice in Wonderland theme, such as a copy of the book. Whatever ages your young guests are, it won't cost you very much to buy age-appropriate versions of the book.

Set up a craft table for your guests. They could paint their own teapots and teacups, colour in pictures of the characters, or stick cotton wool balls on a template of the White Rabbit.

Let them run off their excess energy in a scavenger hunt. Hide a toy cat, a pocket watch, a teacup, some playing cards, or chess pieces. You'll have them hunting high and low for the hidden treasure.
Another way to ensure that your Alice in Wonderland birthday party is fun and memorable is to ask StarDust Kids to take care of everything for you. We specialise in birthday parties centred around a variety of characters and themes for children of all ages in and around Sydney, Australia.
If you can't see the theme you want on our website, don't worry – just let us know, and we will do whatever we can to help. Alternatively, you can contact us on 02 9557 9772 or by using the details on our Contact Us page. If you fill out our online form, we'll get back to you as soon as possible.
Stardust Kids Entertainment specialises in providing the best children's entertainers and parties in Sydney for birthdays, weddings, christenings, or corporate events. We'd love to help you host an Alice in Wonderland party.