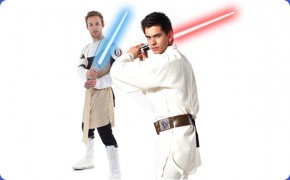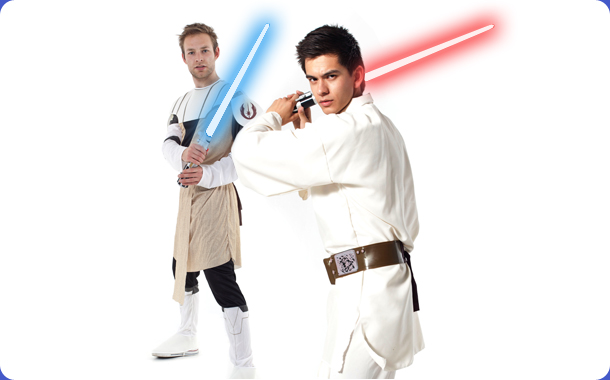 Who would have predicted back when Star Wars: Episode 4 (A New Hope) came out, that decades later, the franchise would still be a huge cultural phenomenon. Although there are many new, important characters – Rey, Kylo Ren, BB8 – the staples we grew up with are still as popular as ever. Our kids love Darth Vader, Chewbacca, Yoda, and the rest of the gang as much as we did growing up. Star Wars theme parties are all the rage again, so if your child wants one, think of it as an opportunity to relive a bit of your childhood too. Here are some ideas for the ultimate Star Wars theme party. 
In a Galaxy Far, Far Away
Get your Star Wars themed party off to the proper start with impressive invitations. You can either purchase premade Star Wars invitations from a party supply store, or for a more personal touch, you could design and make your own. The possibilities are endless.
       

Start with a simple "space" background. Those are easy to find over the Internet. There are many photo/illustration editing programs available. Write out your time, date, and other party details to look like the opening crawl from the Star Wars movie. You could also throw in a picture of the Death Star, Millennium Falcon, or other iconic craft as an accent.

       

Have Tatooine as the backdrop for your invitations and invite the Nerfherders (guests) to a party at the station – or better yet, at the Mos Eisley Cantina.

       

Play up some Stormtrooper humour. Make the invitation in the shape of a Stormtrooper helmet and jokingly suggest that they not "miss" the party. 

       

Shoot for a Star Wars girl power motif and use your photo editing program to put your favourite female characters together.

       

Play around with Yoda's unique linguistic style with phrases like "Come to the party, you must" or "Invited, you are."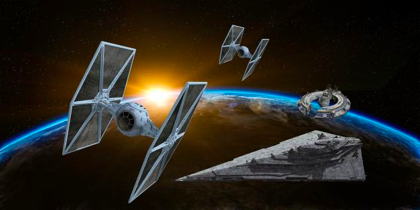 Serve Some Awesome Space Food
Many bakeries and ice cream chains offer Star War-themed birthday cakes. You could probably also find a novelty cake business in Sydney that can make something really cool, like a Death Star or R2D2 shaped/decorated cake. If you are a proficient baker and cake decorator, you could bake your own, of course. You could also try some of these Star Wars-themed food ideas.
       

For some variety and fun, you could always serve a platter of cupcakes instead of a standard cake. You can decorate a few like Yoda with green icing and green apple "ears", a few like Chewbacca with chocolate or peanut butter icing and a licorice strip "belt",  C3PO, with yellow icing and candy eyes, or any of the droids with white icing and accents in orange or blue, depending on whether you're going for BB8 or R2. 

       

Pretzel lightsabers are easy to prepare and fun to eat. All you need is a package of straight pretzels and different colours of icing. Separate the contents of a tub of icing, then make a few colours for the different lightsabers – red for Sith lords, blue and green for the main Jedis.

       

Drinks are another opportunity to take your Star Wars game up a few notches. Get a few juice jugs so you can offer your guests different drinks to sample. Yoda juice could be any juice or soft drink with a few drops of green food colouring. C3PO could be represented by tropical nectar or a similarly orange-gold drink. Chewbacca can be chocolate milk, and R2D2 could be any blue drink, fizzy or flat. Have your guests try all of them and review or rate them.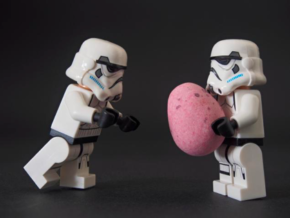 Create a World They Will Never Forget
If you want to go all out on your Star Wars party decorations, you find a place that does wall-sized prints and watch your guests' jaws drop when they enter a scene straight from one of the movies.  That can be expensive and somewhat cumbersome to carry around, though. Thankfully, you have many other options.
Hang galaxy patterned fabric on your main wall, and either pin up iconic Star Wars vessels like the tie fighters, X and Y wings, Millennium Falcon (even the Death Star!) or have them hanging down from the ceiling for a 3D look.

If you're in a pinch, many party supply stores in Sydney carry a large range of Star Wars-themed decorations, including balloons, banners, tablecloths, and more.

Play songs from the Star Wars soundtrack(s) in the background so guests always feel as if they are part of an epic adventure.

Come to the light side: hire

amazing party staff

to make it your event even more unforgettable. 

Buy small Star Wars figurines – Lego miniatures work really well – and make your table into a battlefield, with the snacks and utensils as geographic terrain. If you will be using your main table for activities or a "sit down" eating area, consider setting up a smaller table with all the food and drinks, and have the figures hang out there.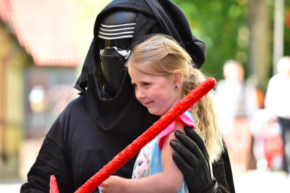 Out of This World Activities
With a little imagination, you can make your Star Wars themed party something that your guests – and their parents – will talk about for years. Depending on how much space you have, you can "go big or go home".
       

Set up an obstacle course for some "jedi training". Pool noodles make hilarious jumbo lightsabers — simply use coloured cardstock, markers, and duct tape to make the handles. 

       

Remember Luke's training sequences? Find a round piñata at a party supply store or section and spray paint it silver. Convert the stick into a lightsaber and you're good to go. If your guests are younger, fill a round paper lantern with confetti and let them use pool noodle lightsabers.

       

Modify "Pin the Tail on the Donkey" so that you're "pinning" Jabba's tail on his body, Han Solo on the carbonite block, Darth Vader's helmet onto his suit, or Yoda's ears to his face. If you are wary about having your guests handle sharp objects, use velcro tape. 

       

If it's close to Halloween, make it a Star Wars-themed costume party. That way, the kids will also get to wear their costumes for the party

and

trick-or-treating. Encourage the parents to dress up too – many of them would probably love to enjoy the festivities too out of sheer nostalgia.
If you're outdoors, you have even more options.
       

Buy different coloured bubble wands – they already look like lightsabers in the sunlight – and use acrylic paint and black or silver tape for handles. Ask your guests to "use the force" to unleash waves of bubble power.

       

Set up various targets with different point values, load up the Nerf gun, and you have the perfect set-up for a Stormtrooper shooting competition.
We've got some awesome Star Wars activities planned as part of our Star Wars-themed parties, led by some of your favourite and most iconic characters. Talk to us about hosting the ultimate Star Wars party for your kid. After all, we are Sydney's "Force" for fun.