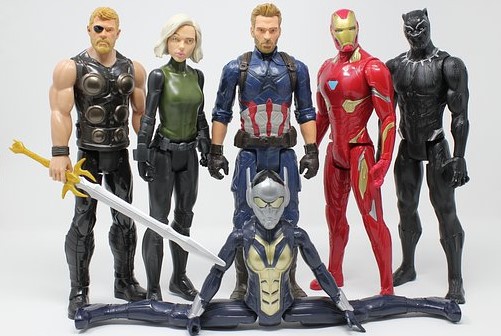 Children of all ages just love superheroes! And they make an excellent theme for a birthday party. However, where do you start – Spiderman, Iron Man, or the Hulk? You might feel a bit overwhelmed at where to begin to plan the perfect event. To help you out, here are some ideas to help you organise a fun-packed Avengers themed party.
Which Avenger Does Your Child Like Best?
The main Avengers are Captain America, Thor, Iron Man, Spiderman, the Hulk, Black Widow, Ant-Man, Wasp, and Thanos, who is the ultimate supervillain. These are the main characters in the Avengers films, and you'll find it relatively easy to source party products featuring these superheroes.
However, bear in mind that there are dozens more Avengers, and your young one could well favour one of the less famous characters. If your kid has a favourite Avenger, you might want to plan your party around that particular character.
Party Decorations
When you book your party and send out your invites, consider whether you want to ask your guests to dress up as an Avengers character. You don't want to exclude anyone, so you could suggest that any superhero will do, or that any fancy dress costume is also OK. It will certainly add to the party atmosphere if everyone is dressed up in capes and masks and comes to the party bearing shields and swords!
Decorate your venue with Avengers' posters and balloons to create a lively scene and fire up their imaginations. Avengers party decorations are easy to come by, and it won't cost a lot to buy matching cups, plates, and party bags.
Party Games
Instead of Pin the Tail on The Donkey, ask your guests to pin Thor's hammer in the right place, or Captain America's shield, or the Hulk's fist.

Your little Avengers could make their very own hammer, sword, or shield. You provide the cardboard, glue, and paint, and then let them use their imaginations and creative skills. You could even let them use tin foil and glitter if you can cope with the mess!

Kids could colour in cardboard masks; print out superhero templates for them and set out the crayons, pens, and the elastic they will need to hold their masks in place. They'll love wearing their masks and running around showing them off.

Host an Avengers quiz. You will need to do a bit of research on the characters and the films so you can write questions that aren't too easy or too difficult for your contestants. Have them work in teams so no one feels awkward if they don't know the answers.
Superhero Party Food
When it comes to food at your superhero party, you want bright and bold superhero snacks and lots of superhero figurines to decorate the table to stay in line with your Avengers' birthday theme. Ice some cupcakes with Captain America's shield, Thor's hammer, or Iron Man's face. Add green food die to some cupcakes, ice them with green frosting, and then use black icing to create the Hulk's face.
Create a tray of fruit in the pattern of Captain America's shield. You can use strawberries, marshmallows, and blueberries to create the red, white, and blue rings.
Wherever you are located in Sydney, Australia, if you would rather leave the party planning to the experts, then get in touch with StarDust Kids. We can take the kids on an amazing adventure, training them up to be just like their favourite Avenger. All of our entertainers are hand-picked, fully trained, and thoroughly checked so you can be sure that you will be getting the very best. We've got stacks of Avengers theme party ideas to make your party go with a superhero swing.
You can also check out our other characters and themes party ideas for inspiration. If you can't find what you are looking for or you would like some advice, please don't hesitate to contact us.