It's no secret that this year has definitely changed the way we work. This includes the way we go about work events. The really good news is that just like ZOOM can be used for staff meetings, it can also be used for staff kids parties such as family Christmas parties and bring your kids to work day. It's beginning to look a lot like Christmas here at StarDust Kids (or The North Pole as we like to call it come Christmas time) as we're busy making sure that you can still throw a tinsle-tastic Company Christmas Party!
Our elves have been busy in Santa's Workshop ensuring the magic of Christmas can still be shared this year in spite of the Grinch's (Covid-19) best efforts.
Here's how to have a Holly Jolly ZOOM Christmas Party for all!
First things first, it's simple.
Set a date and time
Call us and book a zoom party
Let your employees know
Zoom Christmas Party Packages
Simply click on the headings for more info on each package.
Looking for the perfect present this Christmas? Give the gift of joy with our virtual Christmas. Hosted by one of our wonderful elves (or any other character of your choosing), the children and adults will get to go on an amazing adventure filled with interactive games, dancing, magic and much more.
Have a large team? Looking for something for all ages? Invite your staff and their children to explore a whole host of exciting virtual party rooms. Each room is unique and filled with fun games and activities to keep little and big kids alike entertained. This jolly pick and mix package allows you to choose from a host of room options listed below. We are also able to create a personalised room, "stuffing" it full of festive fun to suit your unique entertainment needs. All you need to do is ask!
If you don't see what you are looking for, our friendly team will be more than happy to work with you to create a customised zoom party package that will suit your entertainment needs. So all you have to do is ask!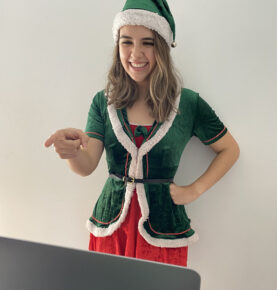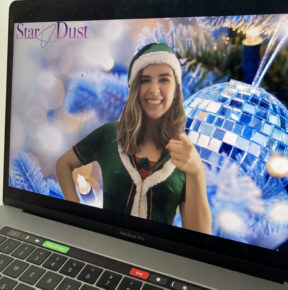 Extra Stocking Fillers!
If you're looking for extra festive tips and tricks for an extra holly jolly party here are some ideas straight from the North Pole.
Wanting to elevate your company Christmas party? You could send your team members a fun Christmas themed dress up item or decoration! Dressing up and creating themes really helps people get into the Christmas mood! And by picking a theme it can help everyone feel part of a team!
Here are some of our favourites;
Ugly Sweater & t-shirts are a different twist on the traditional Santa suits and could be fun for a themed event
And for those wanting to go the extra mile and dress up as Santa
We know that at Christmas, money can be tight, so we have restructured our pricing with shorter packages available and if you sign up to costumes.com.au you can get a discount on any of the linked items!
We are also running Covid Safe on-site parties and would love to fly over Santa or an Elf or two along to your centre from the North Pole. For more information on our on-site Christmas parties click here.