Anna From Frozen Has Arrived All The Way From Arendelle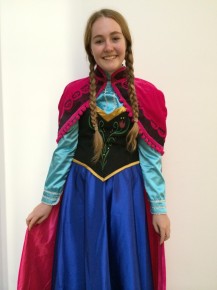 Since Elsa ran away, Anna has been searching high and low and far and wide looking for her sister. She has travelled through the cold North Mountain and all the way to Sydney and has finally found Elsa at the StarDust Kids HQ
Now that Anna's search is over, she is ready to celebrate. Why not invite the wonderful Anna to your next kids' party? She will take the Children on a magical journey through Arendelle where they will get to play loads of great fun Frozen related games, help Anna perform some amazing magic, show off their "coolest" dance moves to their favorite Frozen songs plus much much more.
You could even invite both Elsa and Anna to make the day extra special.
For more information call us today on (02) 9331 1773, email us at info@stardustkids.com.au or check out our website – www.stardustkids.com.au
We look forward to hearing from you soon.
And Remember, StarDust Makes It Magic!!