It's a Whole New World with our Jasmine Party
It's a "cave of wonders' in our Alladdin party package! Princess Jasmine will make wishes and dreams come true as she takes the kids on a magical adventure where they will see "a whole new world". Imagine the kids sneaking up on the most powerful sorcerer Jafar and going on a "tour of Sultan's palace, which means that, they'll become Arabian Nights princesses and princes just like Jasmine and Alladdin!
Next, they help Jasmine clean her magic carpet (parachute games) from her "magic carpet ride" over to the party and perform some amazing genie magic. Furthermore, they will be "speechless" with laughter in our barmy balloon modelling show. Plus, what's more, they will also get to dance at the palace ball!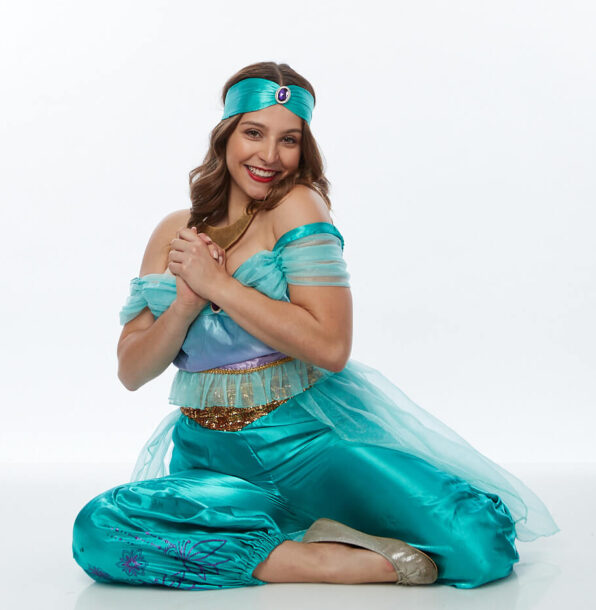 Magical Feedback for our Jasmine Party
Anastasia's 4th Birthday Party
Princess Jasmine (Sarah) was GREAT, she is very professional and engaged with the kids as soon as she arrived. The kids were entertained and happy while she was with them. 

I definitely will consider Star Dust again for my parties and would recommend you to anyone. 

Many thanks for your great customer service and positive attitude on the phone all the time. 

Michelle A 
Amelia's 5th Birthday Party
You beat me to it! I just wanted to say thank you so much! Carla (Princess Jasmine) is amazing! She is so professional and had all the children participating, smiling and having fun! Plus, you could tell it was well prepared, organised and delivered. Everyone is very impressed and Amelia said "this is the best birthday ever mummy thank you!"

I look forward to using your company again. Please pass on our thanks to Carla.

Daniela D
Find out about the other perfect party princesses in our Kingdom